Equine Services
The equine aspect of the practice has been integral to Tri-County Veterinary Services from the beginning. Being lifelong horse people ourselves, we feel we have a deep understanding of the needs and concerns of our horse-owning clients. From the backyard 'pasture ornament' to the serious performance horse, we offer a wide selection of services for our equine patients. We have multiple stall capacity in addition to turnout. There is also a climate controlled facility for 'critical care' patients. We are able to handle all types of horses..... including broodmares and breeding stallions. Our unique facilities, with a small ring and large arena, allow for complete lameness evaluation.
Dr Strackbein was the first in the area to do advanced equine reproduction, with years of experience in multiple areas. She has been performing AI on mares for 15+ years using both chilled and frozen semen, and has been performing embryo transfer since 2005 - with high success rates. Stallion services include semen evaluation, collection, shipping and freezing. We offer a full range of mare reproductive services : ultrasound, culture & biopsy, infusion, reproductive surgery, and breeding management.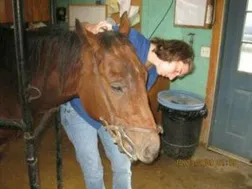 The in-house lab allows for a prompt and in depth evaluation of your horse's health status. Ultrasound and x-ray allow more complete lameness diagnosis and treatment. Endoscopy is also available.

In summary, we are able to offer most of the latest in equine techniques and procedures. We are proud to have served the equine community for so many years and will continue to do so for many years to come.